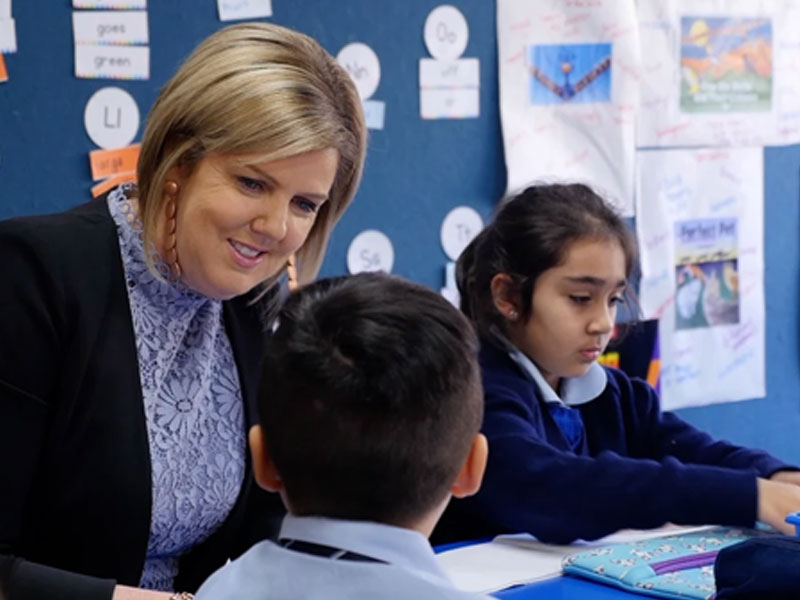 Monica Fitzalan, principal of St Patrick's Primary School, Blacktown.
The opportunity to make life or conditions better for learning is what helps Monica Fitzalan, principal of St Patrick's Primary School in Blacktown, jump out of bed with a spring in her step.
What does a typical work day look like for you?
Being a principal means being at the heart of everything that is happening in your community: lending your ear, your eye, your heart to everyone who needs you. Checking in with everyone is a highlight of my day – noticing who has a birthday or a broken arm really helps me to know what is going on in our community. My favourite part of each day is seeing the learning that is happening in our learning spaces.
I walk through one door and learn about natural disasters, then through another to join a study of the planets. I walk through another door and the kitchen garden team are harvesting their vegetables, then into kindergarten and hear all about why we celebrate Remembrance Day.
How long have you been doing this job and what first sparked your interest in this area?
Seeing the joy in a child or a staff member's face when you recognise a talent, an achievement or something to celebrate is what inspires me each day. The opportunity to make life or conditions better for learning is what calls to me and helps me jump out of bed with a spring in my step.
This is my third year as a school principal and I intend to follow this calling for many years to come. Seeing students graduate as outstanding young citizens who can make positive changes in the world is so rewarding.
What do you like most about the job?
Seeing the joy in children's faces as they share their learning with you is just priceless. No day is ever the same and we always have lots to celebrate.
Working in our Catholic community is an extension of my own personal faith and life, so I have the opportunity to enrich the lives of others. Relationships are the core of our work, and I take great pride in keeping them strong and positive.
What was the most unexpected thing you have had to do in your job?
Zoom kindergarten interviews, Zoom professional learning meetings, Zoom social catch-ups. Online learning has certainly made us think on our feet.
What challenges have you faced during the pandemic?
Ensuring that all of our beautiful students had access to technology to use when working remotely was challenging. Making sure that our staff and students had screen-free time was crucial.
How transferable are your skills?
Communication and building relationships is the foundation of my work. Being an active listener who is understanding of where people are coming from and the life experience they bring to school with them always helps me to understand children more.
Growing up on a farm taught me to be positive, calm, grateful, committed to helping others, and to always see the bright side of life. What I learnt from my parents and from my own Catholic education is that faith, hope and love are the ingredients to happiness and success.
What skills and personal skills do people need in teaching?
A sense of humour, a calm nature, a desire to engage others and a bank of interesting facts to share at the right time. An ability to communicate, to listen, to inspire, to share your learning with others.
---