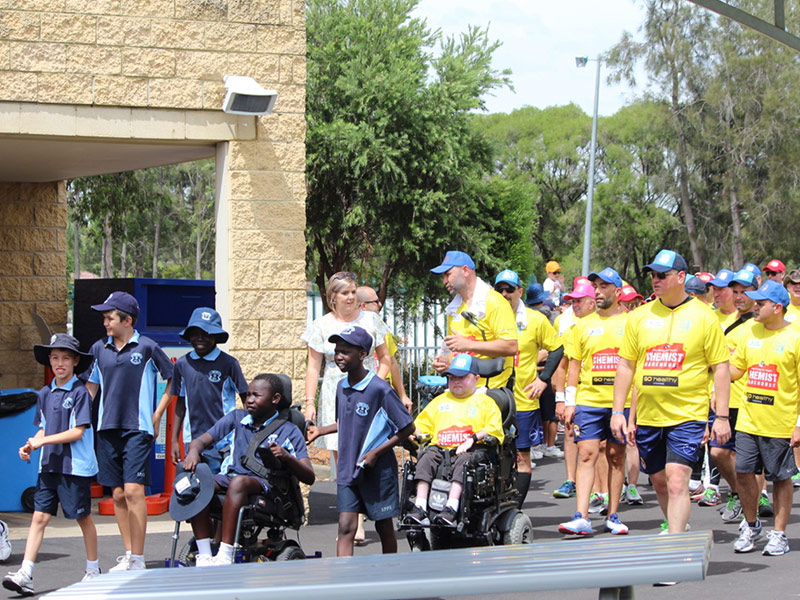 (St Patrick's Primary School Year 5 student Yac Yac is surrounded by a throng of Save Our Sons supporters)
Ash Wednesday was a special occasion for St Patrick's Primary, Blacktown Year 5 student Yac Yac, who lives with Duchenne Muscular Dystrophy.
The 'Save Our Sons Duchenne Foundation' included the St Patrick's school community in the route for their annual Walk 4 Duchenne fundraiser. Duchenne Muscular Dystrophy is the most common muscle disease of childhood and mainly occurs in boys.
The school's participation was organised by St Patrick's teacher and member of the school's Diversity team Charmain Floody.
"Yac Yac was diagnosed with muscular dystrophy in Year 2 after it was noticed he had trouble getting up off the floor and participating in sports," Mrs Floody said.
Yac Yac is one of seven children. Brothers Johnny and Jordan also attend St Patrick's Primary, Blacktown. "He is a very shy boy and likes being on the computer," his mum Adhel said.
"The aim of the fundraising walk was to show support for Yac Yac and his family and to provide a chance for them to make a connection with an organisation that can support them outside of school," Mrs Floody said.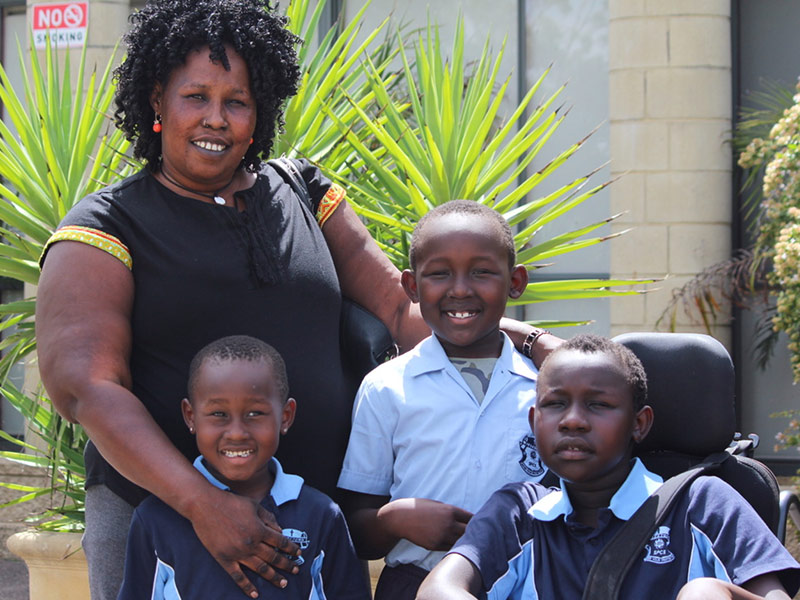 (Yac Yac with his mum Adhel Ani and two of his brothers Jordan and Johnny)
That connection was certainly made! Despite feeling overwhelmed and preferring not to be the centre of attention when the walkers made their big entrance at a special school assembly, Yac Yac and his family were embraced by Save Our Sons.
In fact the organisation left a lasting impression on the school community, especially when they involved students and staff in a "10 push-ups for $10 challenge".
Save Our Sons founder Eli Eid said the walk represents a long and tough journey. "We are walking for those who can no longer walk, in memory of those we have lost, to give kids of today hope and the kids of tomorrow a real future," Mr Eid said.
The Walk 4 Duchenne is a 172 kilometre walk which is done over six days. This year, the walk is taking place from March 4 until March 9 and is hoping to raise $1 million which will go towards research, special equipment and nurses. For details or to donate, visit www.saveoursons.org.au.
St Patrick's Primary, Blacktown Principal, Monica Fitzalan said that their school community was delighted to support such a wonderful organisation. "Yac Yac is an important part of our community and it was wonderful to see such an amazing group of people walking for a cause that is close to our hearts."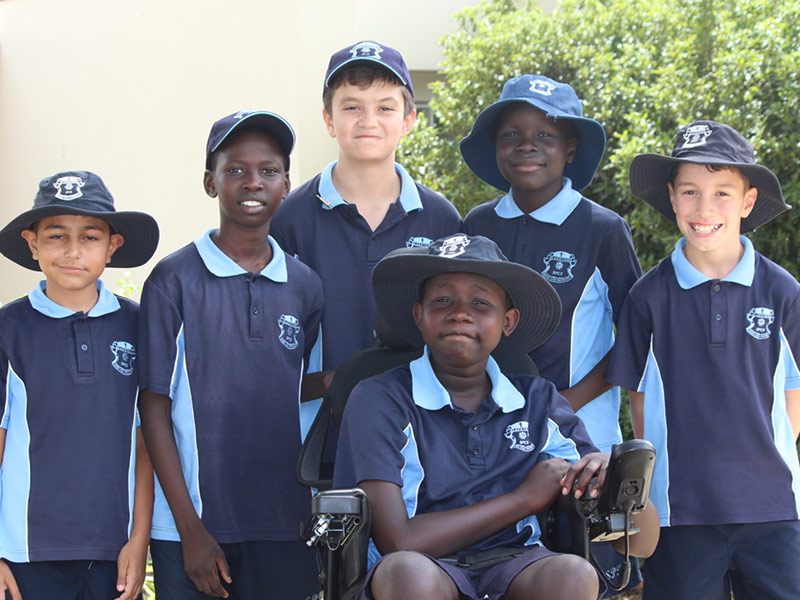 (Yac Yac with some of his biggest supporters, his friends (L to R) Marcus Ohanian, Daniel Koko, Ethan Quinn, Kual Shol and Logan Weatherby)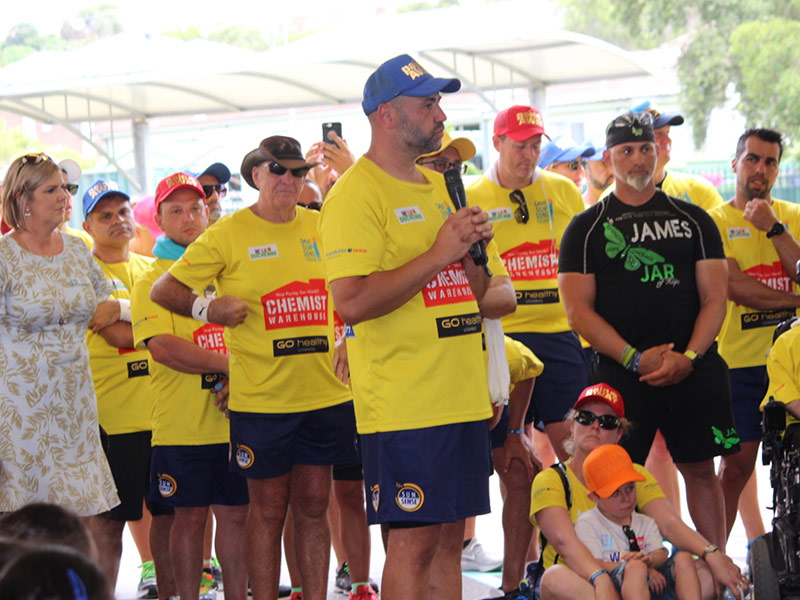 (Save Our Sons founder Eli Eid addresses St Patrick's Primary School special assembly)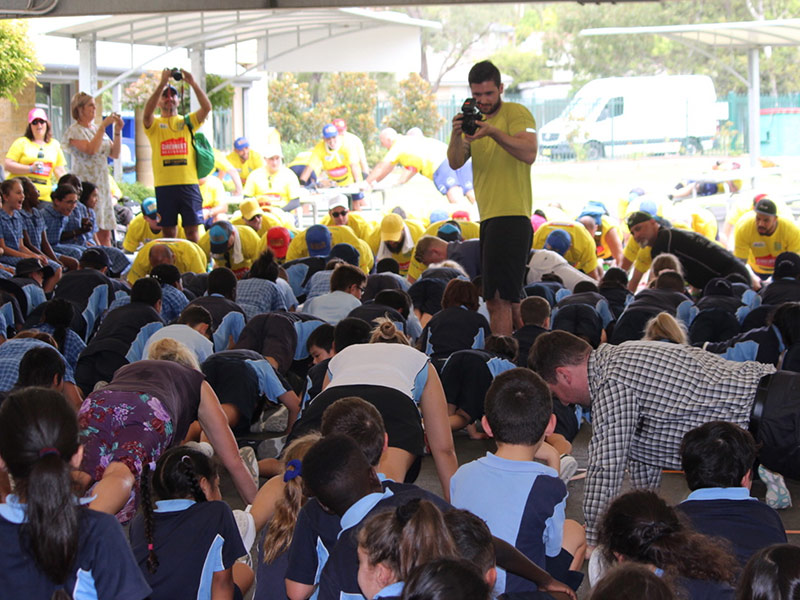 (St Patrick's Primary School students and staff gave the Save Our Sons 10 push-ups for $10 challenge a go)